Complete renewal of the central campus in Veszprém
The University of Pannonia is embarking on two large-scale developments, the details of which were presented to colleagues at a meeting of rector András Gelencsér, chancellor Zsolt Csillag and technical director Tamás Sági. 
The renovation of the central campus in Veszprém, the modernisation of the heating system and the construction of the underground car park will be carried out in the framework of a total investment of almost HUF 15 billion. Such a large-scale infrastructure development has never been done before in the history of the University of Pannonia. The funds required for the investment are provided by the European Capital of Culture 2023 programme, the Hungarian state and the University of Pannonia's own resources.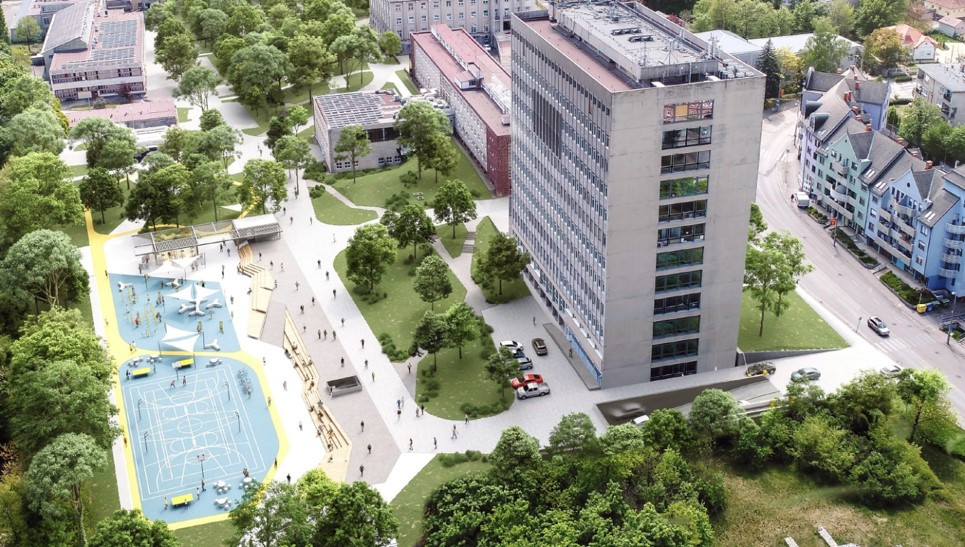 The two investments are expected to last from May 2022 until 30 June 2024. A brand new university park, underground car park with sports fields above it, a green campus open to the city, a completely renewed heating system, new windows and facades, among other things, will be the result of the investment that is now starting. The first phase of the underground car park project, which will run from May 2022 to 31 August 2022, will not significantly affect the number of parking spaces, as the temporary designation will replace the 105 spaces with around 250 spaces.
Parking on the Egyetem Street campus will be eliminated during a certain phase of the development project, expected from 1 September 2022. From then on, staff will be able to use the upper campus car park and the Hotel Magister car park, which is expected to be available until the end of July 2023. As the Rector emphasised, one of the aspects of the investment was to maintain the number of parking spaces, and in the long term this has been achieved.